Pet Yoga can help keep you healthy, your pet healthy and increase the bond between you both! Some Pet Yoga is with adoptable animals!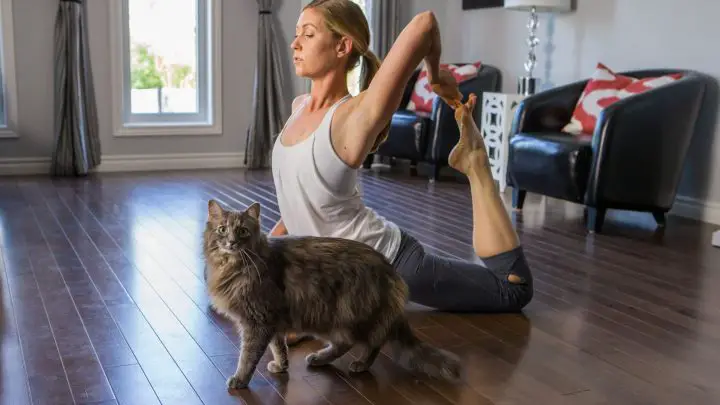 tabla de contenidos
Doga or Meowga? Try Pet Yoga!
We've all heard that yoga benefits humans. Its an ancient practice, believed to date back to between 5,000 to 10,000 years ago. Greater flexibility, strength, tone, circulation, and protection from injury are all known human benefits from this deeply respected practice. Some have raised eyebrows about baby goat yoga. Most leave saying they enjoyed it immensely.
But have you heard of doga and meowga?
Animal shelters and yoga studios around the world have begun offering yoga classes where you can bring your own pet or practice human yoga with shelter dogs and/or cats or kittens that are available for adoption. Have you tried some paws-itively awesome yoga with your pets? At a shelter near you? In honor of International Day of Yoga on June 21, we put together a little information to help you try one or both.
Do Pets Need Yoga?
The answer depends on who you ask.
Some instructors claim that doga can improve a pets posture and behavior. Most veterinarians agree that pets need regular, safe exercise but not specifically yoga. They also agree that pets need dedicated time with you to connect, relax and bond.
Humans in the U.S. are in the need of more exercise and ways to de-stress. Pet yoga could be an excellent way to accomplish a healthy lifestyle for both of you.
preguntas frecuentes
Is dog yoga good for dogs?
Dog yoga, or "doga" can be beneficial to dogs. Doga can provide an opportunity for bonding with your dog and can be a relaxing and enjoyable experience for both of you. Incorporating massage and gentle touch can help your dog relax and trust you. It's important to approach it with caution and consideration for your dog's comfort and well-being.
What does dog yoga do?
Dog yoga is a practice that involves integrating your dog into your yoga routine. The aim is to create a shared experience that promotes bonding between you and your furry companion.