Eight pet apps for dog and cat lovers to use, train, play, and enjoy with their cats and dogs. Plus a few for those who don't have pets yet!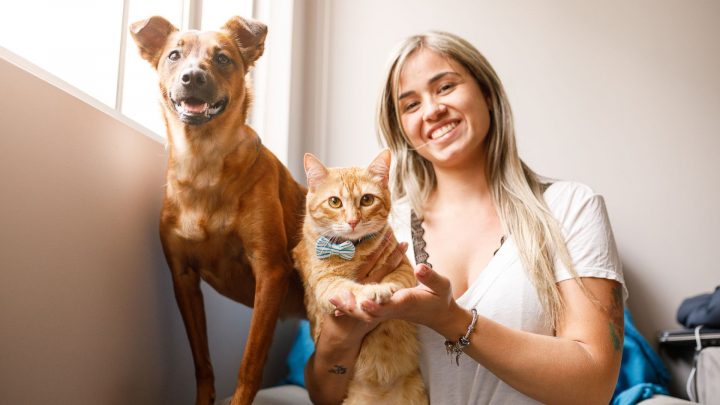 Table of Contents
Training a dog? There's an app for that. Finding the best pet-friendly place in town? There's an app for that. Looking to adopt the perfect match for you and your family? There's an app for that too! Many find pet apps that they love because of the positive impacts they can make in their everyday lives. They might save you time and/or money, keep you organized or simply entertain or brighten your day. There are even apps for people who want to be pet owners but can't yet for one reason or another.
Developers have ensured that there are more apps for pet owners than ever before. Many more on the horizon. Pet owner statistics from 2019 reveal that 24% of pet owners report using pet health and nutrition apps, 22% us some form of pet service or pet camera app, and 20% use apps associated with smart toys. 
Below are eight pet apps we've found that may interest pet parents. No matter where you are in your journey, there's probably an app for that.
We understand how much you're thinking about your fur babies while you're away. That's why the Time to Pet app to give you a very direct link to your pet and a way to track the work we do for you. Using a smartphone, our pet sitters "clock-in" and "clock-out" of your home informing you of exactly how long we were there, what tasks were completed, and when the sitter left. The app also allows for pet sitters to take photos and videos to share with pet parents and give you real-time updates so you can see that your pet is happy and safe. You'll get a visit report card after each event. 
Booking visits with the app is easy too. Clients can update their info, request services and make payments directly from the app.
Do you have a reactive dog? One that is afraid of strangers or doesn't play well with others? Or a delicate older dog that can't brave the dog park? Since many dog parks, day cares and other gathering places have closed due to coronavirus COVID-19 closures, pet owners have had difficulty finding places for their dogs to exercise and play. Or perhaps dog parks are open, but just too crowded for your pet to play safely? The Sniff Spot app was designed specifically to solve these issues for pet owners. 
The Sniff Spot app lists safe, private spaces available to rent by the hour for relatively affordable prices.  Think of it like Airbnb or VRBO but for dogs. Property owners (who are usually dog owners themselves) list their property on the app, with detailed descriptions and photos. You can look at a map to find the spots to explore closest to your home, or plan exercise breaks as you travel with your pet. Pet owners use the app to book Sniff Spots for exercise, training, play dates with fellow dog owners, and even dog birthday parties. They like having a safe, enclosed, insured area all to themselves. Property owners enjoy earning a small income from spaces set aside for their dogs already, as well as meeting neighbors and fellow dog owners.
The app uses a 5-star rating system for both spot owners and visitors so that you can read reviews before booking a spot. The rating system also ensures that spots are clean, safe and pet-friendly. 
Puppr App for Puppy Training
When many of us had to stay at home due to COVID-19 closures, lots of families took advantage of the time to adopt a new puppy or kitten. Wonderful! But how can you use positive reinforcement training when trainers are closed? There's an app for that too. Puppr's positive reinforcement training includes video and photo instructions and a clicker built into the app so you can never forget it when helping train your dog. The lessons include the basics like sit and stay, but also offers some crazy fun tricks too.
The app enables you to track your training progress including the tricks your pup has learned along the way. Built in are optional reminders for a potty and training schedule, badges as you and your pup master skills and tricks and support for multiple dogs.
Tractive: an Attractive Dog Walking App
Perhaps you saw our recent blog on establishing a walking routine? The benefits of consistent exercise are clear for both pets and owners for health, mood and behavior. The Tractive app helps you keep track of your route, distance, and duration of each walk. For some, using an app can help improve your consistency moving you closer to your personal dog-walking goals.
The app can be used to track and share walks via GPS. You can also use it to record and analyze your statistics and history. If you've ever tried a Fitbit or similar for yourself, you might enjoy using this app for your furry friend. 
Neko Atsume: A Cat filled App for Those Who Can't Have Pets…Yet
When you have exhausted all your social media accounts or would rather not look at the whirlwind of posts, Neko Atsume is a chill way to relax and play with hand drawn cats. Playing Neko Atsume: Kitty Collector is pretty simple. Remember the phrase, "If you build it, they will come?" All you have to do is place playthings and snacks in your virtual yard cats will visit.
"More than 40 varieties of cats—white and black, tabby and calico—might stop by. Rare cats are rumored to roam the neighborhood too, but you'll need particular items to entice those elusive felines. Each visitor is logged in your Catbook. Become a master kitty collector and fill it up!"
It is available for iOS and Android.
Friskies CatFishing 2: Soon Your Cat will be Gone Fishin'
Do you use a laser pointer or feather to play with your cat? If so, this app may be for you. It has three levels with one, two, or three fish for your cat to enjoy. After a brief set up, watch your cat try and catch all those speedy fish on your screen.
Perhaps you'll want to invest in a screen protect or nail clippers if your cat really gets into this game which is free for iOS or Android.