Our feline friends are different from us when it comes to what they should be eating. They are also different from dogs. Cats are obligate carnivores, meaning they need a lot of animal protein to survive. Why then should you give your kitty high fiber cat food? While not necessary in most cases, high fiber diets can be a solution for certain health conditions.
If you think your companion should be placed on a high fiber diet, the best person to consult is the veterinarian. In the meantime, this article will detail everything you need to know about high fiber diets, including some of the best high fiber cat food you can buy.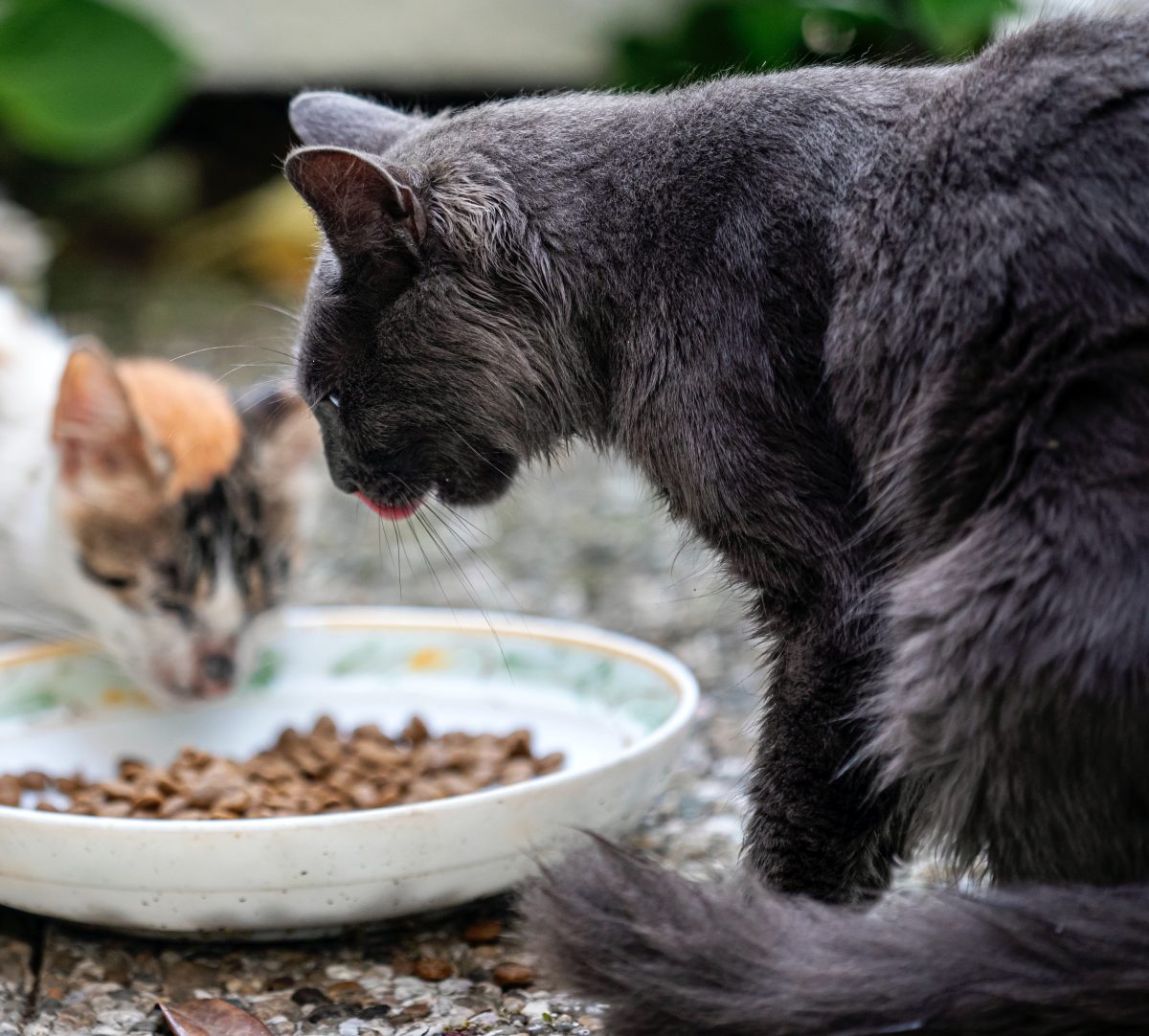 Is a High Fiber Diet Good For Cats?
The answer to whether cats need fiber in their diet or not is not straightforward. Many commercial foods contain a form of plant fiber or dietary fiber, which most cats do not need. However, fiber does help with digestive motility. In the wild, the indigestible parts of a cat's prey, such as ligaments and bones, would help clean out the digestive tract. Cats of today rarely have to catch prey, and strictly indoor cats do not have such an opportunity.
Domestic indoor cats, overweight cats, or those who cough up more hairballs than usual can all benefit from fiber.
Benefits of a High Fiber Diet for Cats
Let's have a look at some of the reasons why a high fiber diet benefits cats:
Hairballs
Diarrhea
Constipation
Obesity
Now for some details.
Hairballs
Domestic cats who spend a lot of time indoors have a lot of time on their paws. So what do they do? They clean themselves. A lot. Because of this, indoor cats have a higher risk of excessive hairballs. Most of the time your cat will have no problem coughing up a hairball and going about their day. However, there are some instances where hairballs become lodged in the intestines, causing lack of appetite, lethargy, constipation, diarrhea, and dry heaving.
Since this is serious business, cats with stuck hairballs need to go to the vet. During this time, your vet may prescribe a high fiber diet that is full of vitamins, minerals, and—you guessed it—fiber.
Diarrhea & Constipation
Fiber is necessary for motility. In other words, whether a cat has loose stool or is constipated, fiber can help move things along. The right kind of fiber can promote a healthier microbiome, meaning healthier poops. If your cat is struggling with either diarrhea or constipation, look for beet pulp or pumpkin fiber in the food.
Obesity
Most domestic cats are overweight or obese. This is because they are consuming loads of calories but lounging around in sunbeams. Nothing wrong with that—until they develop diabetes and other issues. Furthermore, many commercial cat foods are pumped up with sugars and other unnecessary ingredients to reduce the cost (kind of like human junk food). In turn, cats keep gaining weight.
A high fiber diet is a unique blend of wholesome ingredients that can control a cat's appetite, assist with weight management, and reduce the risk of disease.
Best High Fiber Cat Food
Now that you know a little more about high fiber cat food, it is time to look at some of the best high fiber cat foods around. These options were chosen according to the quality of ingredients, brand reputation, fiber content, and calories. Take a look:
Blue Wilderness is one of the most trusted brands of wholesome dog and cat food around. You can't beat the quality of this food, and your cat is sure to love it. Blue Wilderness Indoor Hairball Control Chicken Formula was designed with wild lynx in mind. Coming in at 410 calories per cup, it is not the most friendly food for your overweight friend, but it will keep them fuller for longer.
The main source of protein is deboned chicken. Following that main ingredient Is chicken meal, tapioca starch (also a fiber), pea protein, and peas. The carbohydrates included are peas, sweet potatoes, and white potatoes. There is also psyllium for fiber, a broad spectrum of B-vitamins, vitamin C, vitamin E, and chelated minerals for digestion.
For cats that struggle with indigestion and vomiting, this food soothes their stomachs and ensures easy digestibility.
Pros and Cons
Made with high quality ingredients, including deboned chicken, Menhaden fish meal, and psyllium
Contains proprietary Lifesource Bits (superfoods) for a stronger immune system and healthier coat
Plenty of fiber sources
Probiotics for digestion
Completely grain-free
Expensive
Only for indoor cats
Undoubtedly one of the best brands of cat food around, Nature Balance Original Ultra Indoor Chicken and Salmon formula covers all the bases. This is a high fiber dry cat food that uses 100% real chicken as the first ingredient. Following that, there is a great balance of minerals, vitamins, and superfoods like pumpkin and blueberries for optimized health.
The food is also high in vitamin E, omega-3 and omega-6 fatty acids, kelp, and biotin, which work to keep your cat's skin and fur healthy. These ingredients also assist with digestion, constipation, and diarrhea.
As with all Natural Balance foods, there are no preservatives, artificial flavors, or chemical colors.
Pros and Cons
Formulated for indoor cats
Contains no artificial ingredients, fillers, or preservatives
Affordable price
Complete nutritional profile for healthy heart, skin, and eyes
8% fiber content and 381 calories per cup
Not designed for kittens
Size of the kibble is a little large
If you are looking to try out a high fiber diet on your cat first, you probably do not want to start with the most premium brand. For that reason, IAMS makes an excellent entry-level food for your cat to sample. The main ingredient of IAMS Proactive Health Healthy Adult cat food is chicken; omega-3 and omega-6 fatty acids have also been added.
The fiber blend is a mixture of beet pulp and other plant-based fibers, also well as prebiotics, for a healthier gut. Plus, the formula is pea-free, making it friendly to cats with pea allergies. However, the kibble does contain corn gluten meal.
Unlike many high fiber formulas, IAMS Proactive Health dry cat food can be given to both indoor and outdoor cats.
Pros and Cons
399 calories per cup and 3% fiber content
Contains a spectrum of vitamins and minerals for a healthy coat and skin
Pea-free formula
Contains prebiotics for a healthy belly
No artificial flavoring
Contains corn gluten meal and chicken by-product
Looking for wet food that comes close to what cats would eat in the wild? Nature's Variety has limited ingredient options for you! For example, the Nature's Variety Instinct Limited Ingredient Rabbit Formula offers a broad spectrum of vitamins and nutrients, as well as animal-based protein. The limited number of ingredients also reduces the chance of sensitive stomachs and allergic reactions.
A single can of Nature's Variety Instinct Limited Ingredient Diet has about 10% crude protein and 3% crude fiber, which is high. Rabbit liver adds in a healthy amount of fat, and green peas up the fiber content. The formula also has chelated minerals, making them easier for your cat to absorb.
Pros and Cons
Gluten-free and grain-free
Uses peas as a source of fiber and protein
High quality ingredients
Minimally processed
Expensive for the size of a can
Not adequate for kittens
Start the babies off right with some high quality, high protein kitten formula from Blue Buffalo/Wilderness. This is a grain-free option for kittens that is also free of soy, wheat, corn, and gluten. Chicken is the first ingredient, and there is also chicken liver, flaxseed, and potatoes in the ingredient list. In other words, this is complete nutrition for kittens.
Another plus to Blue Wilderness Kitten Formula is DHA, a fatty acid that is essential to eye, brain, and cognitive development.
Pros and Cons
High in protein
Available in bulk options
Complete protein and nutrition source
No artificial flavors, colors, or preservatives
The texture can be off-putting to some kittens
How to Choose a High Fiber Cat Food
Since there are so many options out there, choosing the best one for your cat can be frustrating. That said, going off the options in this article, you should have a good idea about what to look for. Ingredients are important. In fact, you should always read the ingredients in cat food. The first ingredient should always be meat, such as whole chicken. Following that should be more meat or peas.
Then look to see if the fiber content is greater than 3%. Any higher than 8% could potentially bind up your furry friend.
Lastly, make sure the brand is reputable. Do not go with a commercial brand that bulks up food with meat by-products, dyes, and other fillers. While it may cost a little more in the long run, your friend will be much happier and healthier.
High Fiber Cat Food Recipe
Do you want to try your hand at making a high fiber food for your cat? You can choose between raw or cooked food. Make sure you are limiting the number of carbohydrates, using quality fiber (including those derived from animals), and using animal protein. You will have to add in extra vitamins and nutrients.
Raw High Fiber Option
As mentioned earlier, the raw diet mimics a wild cat's diet well. There is plenty of moisture and nutrients in the following recipe for a healthy cat. Here is the list of ingredients you will need to make a homemade raw high fiber cat food:
3 pounds of rabbit or fowl, including the skin, bones, and organs
2 raw egg yolks (toss the whites or cook them)
4 oz of liver if the meat you are using doesn't include organs
1 cup water
¾ teaspoon salt with iodine (when using chicken)
2000 mg pure fish oil
50-100 mg vitamin B complex
400 IU vitamin E
2000 mg powered taurine
Optional: 1/2 cup carrots, pumpkin, sweet potato
Mix all of these ingredients together to make a pate that you feed to your cat right away. There should be enough for 2 weeks of food. Refrigerate the unused portions.
Cooked High Fiber Option
If you shirk away from the idea of handling raw food, there are still plenty of options. You will need:
3 oz organic animal protein, thoroughly cooked (chicken, pork, salmon, tuna, rabbit, or duck)
1/3 cup green peas (you can also mix in some cooked barley or oatmeal)
1/5 cup sweet potato, cooked and without skin
1/3 cup water
¼ teaspoon fish oil
50-100 mg vitamin B complex
400 IU vitamin E
2000 mg powered taurine
Optional: You can swap out the individual vitamins for a commercial multivitamin for cats, such as Balance IT Feline.
Combine all of the ingredients together prior to serving to your cat. Make sure it is well blended and heated in the microwave for palatability. Freeze or refrigerate any unused portion.
More Fiber For The Feline
If your cat has a sensitive stomach, diarrhea or constipation, hairballs, or is overweight or obese, then a high fiber diet may be right for them. Once you have confirmation from your vet, the next step to finding high fiber cat food should be easy. Now that you know some excellent choices and how to find quality food, you can select the option that is best for your feline.
Read more about feline health on the blog:
FAQs
How can I add fiber to my cat's diet?
You can add more fiber to your cat's diet by purchasing a high fiber cat food or by adding powder pumpkin or psyllium to what they are already eating. Optionally, you can try making a high protein and high fiber cat food at home using raw or cooked ingredients.
What is good fiber for a cat?
Outdoor cats usually get their fiber from the ligaments and bones of their prey or from grass. However, indoor cats are usually limited. If you want to choose a good fiber, look at sweet potato, pumpkin, peas, psyllium, and flaxseed. These are digestible sources of fiber that also add vitamins and minerals to your cat's diet.