Isn't it hard to find out the exact color collar for a black dog? Wouldn't it be nice if there was a repository of advice on the subject?
Well, you are in luck, for this is exactly what we have right here!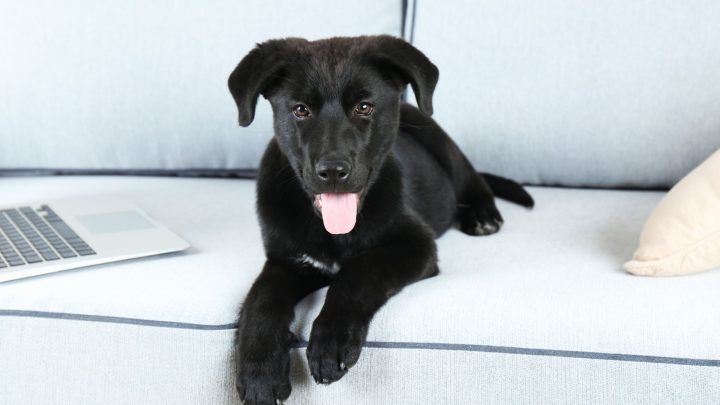 Table of Contents
1. Personality
Arguably most important is to pick a collar that you believe matches the personality of your dog best.
Are your dogs playful? Then you might like to fit them with dog collars that are as playful and energetic as they are. Alternatively, the inverse might be true, in which case it would be best to fit your dog with a dog collar that is as reserved and calm as they are.
Obviously, this is all subjective. But if you see a collar against a dog's coat and feel that it looks right, then why bother fussing over something that ain't broke?
2. Coat Color
This leads to another key tip for choosing the right collar for a black dog. Sure, your dog might be black generally, but take a closer look and see what other colors appear buried deeper within the coat.
This will vary depending on age, though a black dog might easily exhibit some lighter shades nestled within the deep of the fur.
You can, thus, choose a dog collar that compliments or opposes these deeper shades within the fur. If you see redder shades, you might choose to fit your dog with a green dog collar.
Equally, if you see greener shades, you might choose a red dog collar. Heck, you can even choose a black dog collar if you really feel like it.
3. Safety
A lot of the time, choosing a collar for a dog is an exercise in fashion and vanity, though special care should also be paid to safety. Not only should the collar be a color that is easily discerned from among a whole host of logos and other objects, but it should also be made from a sturdy material that isn't going to break or fray easily.
After all, no matter if your dog wears a blue dog collar, a purple dog collar, or an orange dog collar, you are going to want it to keep your dog in check and prevent it from escaping.
4. Practicality
Choosing the kind of collar is equally important – yes, there are plenty of different types, though you might be more inclined to pick from among the two most popular varieties.
Buckle collars are easier to fasten but altogether unsuitable for dogs who are known to pull on the leash and slip off easily. Alternatively, martingale collars are good for training purposes but will be generally unnecessary for dogs who are well-behaved.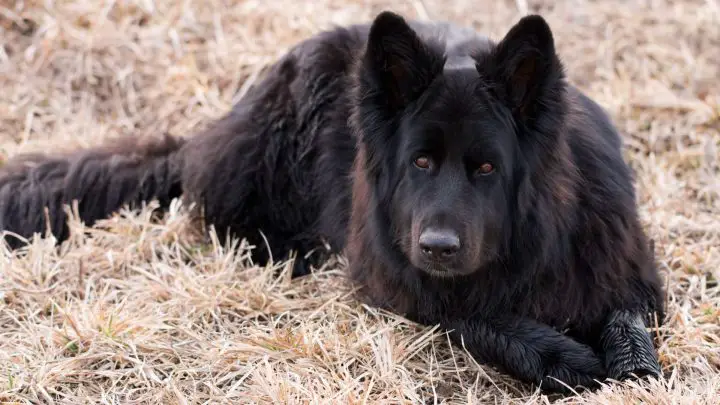 5. The Seasons
Alternatively, if you are looking to pig a different colour dog collar on a regular basis, then you can have different-colored dog collars for the passing of the seasons. Regardless of whether the dog has a dark coat, pet owners can rest assured that the seasons are doing most of the work of choosing the dog's collar.
In this way, you might wish to use brighter-colored collars during the summer months – like a light blue or white dog collar – and then darker hues during the winter months, though equally you can inverse this logic.
6. Matching
Whatever you do, many would definitely suggest that you match the dog collar colors with the various other accessories that you are likely to use with your dog. This means matching the leashes, tags, and/or harnesses with the leash for extra street cred when you are out walking your dog.
No dog is going to pay attention to this detail – not least because they are more or less color blind – but it will be the talk of all the dog walkers in your local area, not to mention being a fun and exciting process in its own right.
7. Environmental Factors
Alongside considering the passing of the seasons in your search for the perfect dog collar for every given moment, it is also worth pausing to weigh up the various other environmental factors on your choice.
For example, you wouldn't want to choose a green dog collar if you are going to be walking your dog amongst green foliage and wildlife on a regular basis – how are you going to find your dog if they get lost? In such an instance, you would be best advised to choose a collar with a color that stands out.
8. Experimentation
More than anything, it is worth working out the color of your dog's collar over time, ensuring that you are well aware of the fact that this is, as the kids say, a process. You don't necessarily need to find the absolute right dog collar for your dog straight away.
Rather, you can take your time getting there, either buying different collars and trying them out over time and in different environmental conditions or going to a pet store and literally trying out all the different collars.
9. Professional Advice
Speaking of which, it might be an idea to commune with someone from a pet store and get their advice on the subject. Of course, their knowledge might not extend as much to the more useless sides of pet ownership, but they might have knowledge of, say, the hairs that are embedded deeper in the dog's fur.
They might even know what kind of hairs are likely to sprout on your own dog as they age so that you can choose a collar for your dog that works now but that also will work later in life.
10. Reviews
If, though, you are not going to a store to buy your dog's collar and are instead looking to buy it online, then you would be best advised to peruse a good number of reviews before doing so.
With such a wealth of people using the internet these days, you can be sure that basically anything like this that you are going to buy will have been given a fairly tasteful and accurate review beforehand.
Final Bark
So, there you have it! Hopefully, you are now feeling ready and able to pick a collar for your own black dog.
Don't forget to check out how to adjust a dog collar for your pooch's best comfort!
FAQs What Color Collar for Black Dog
What color dog collar looks best on a black lab?
The answer to this question will depend on the specific dog in question, though many would suggest that, say, a black collar on a black dog is a little bit of a faux pas.
What color collar is for a chocolate dog?
The specific color collar for a chocolate dog will vary depending on the specific character of the dog in question, though you would be best advised not to have a collar the same collar as the dog.