Scooby Doo has been a staple of popular culture for decades, but even if you're a fan, you might have never even thought to ask- what type of dog is he? As you might have suspected given his appearance (long and stocky build, skinny legs), Scooby Doo is a Great Dane.
Since it's a cartoon, though, the proportions aren't quite accurate to those of a real life Great Dane. He's quite misshapen in comparison (sorry, Scooby), his frame and body less refined. So what else do we know about the kind of dog Scooby Doo is supposed to be? Read on to find out.
Table of Contents
How Does Scooby Doo Compare To Great Danes in Real Life?
While Scooby Doo was certainly intended to be a Great Dane, his creator also intended Scooby's characteristics to be the opposite of what a real Great Dane would be known for.
Unlike real Great Danes, who are known as being noble, courageous, and elegant, one of Scooby Doo's primary characteristics is that he runs in terror (and runs in place) at the slightest hint of a threat. 
The main thing that Scooby Doo actually has in common with Great Danes in real life is their friendly and loving nature. 
Scooby Doo: Origin and History
The character of Scooby Doo was created by Iwao Takamoto, a cartoonist for Hanna-Barbera Productions.
Originally his name was Scoobert Doo, and following his 1969 debut in television's Scooby-Doo Where Are You!, he became one of the most popular characters in cartoon history. 
The other main characters of each Scooby Doo show include Shaggy Rogers (Scooby's owner and best friend), Velma Dinkley, Fred Jones, and Daphne Blake.
Together they form Mystery Inc., a group that travels the world in a van they call the Mystery Machine. They solve mysteries that often at first seem supernatural. But they turn out to be just another criminal playing tricks. 
That's not to say the group's never faced threats that were actually supernatural, though.
One of the most beloved Scooby Doo movies is Scooby Doo on Zombie Island. The monsters in that film (both zombies and were-cats), both turn out to be the real deal.
The live action movies of the early 2000's (Scooby-Doo and Scooby-Doo 2: Monsters Unleashed– both of which were written by James Gunn, funnily enough), also featured real monsters.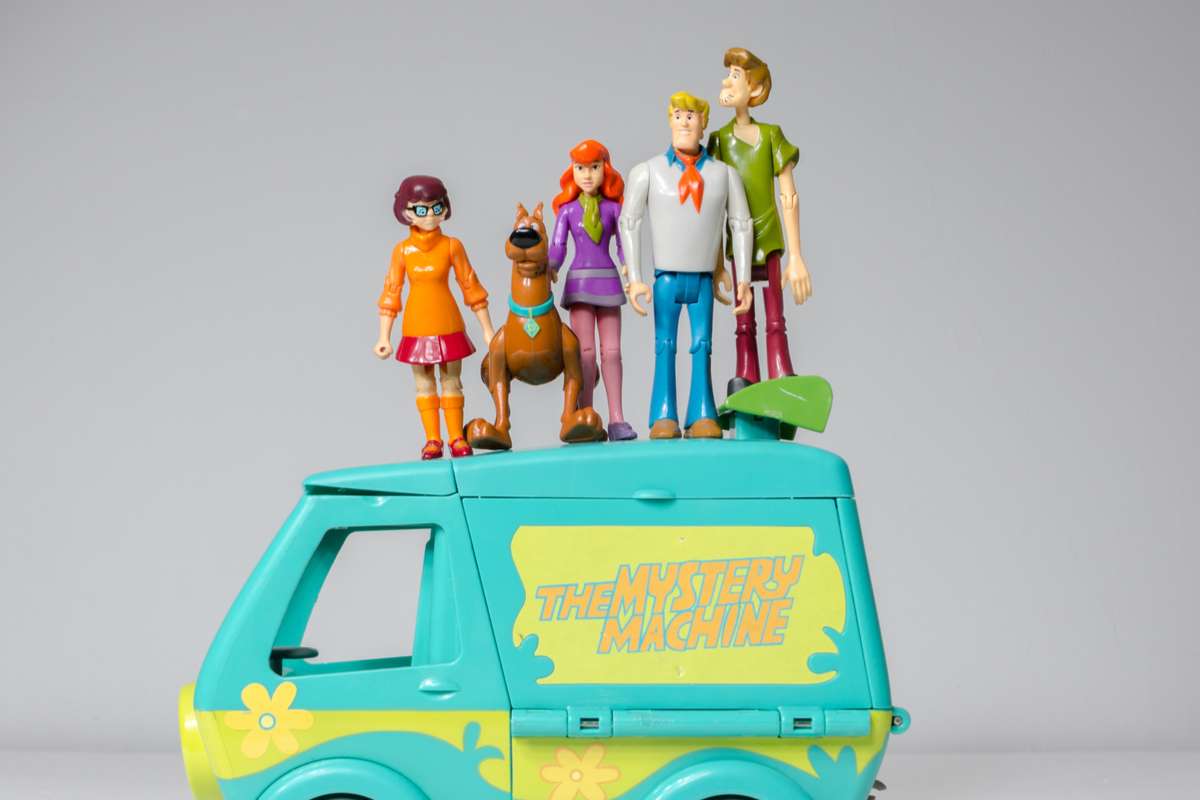 Scooby Doo's Filmography
There have been a number of television shows starring Scooby Doo.. Which just goes to show how timeless the character's appeal is.
Since 1969 these shows have included the original series, Scooby-Doo, Where Are You!, as well as The New Scooby-Doo Movies, The Scooby-Doo Show, Laff-a-Lympics, Scooby-Doo and Scrappy-Doo (the 1979 to 1980 incarnation, as well as the 1980 to 1983 incarnation), The New Scooby and Scrappy Doo Show, The New Scooby-Doo Mysteries, The 13 Ghosts of Scooby-Doo, A Pup Named Scooby-Doo, What's New, Scooby-Doo?, Shaggy & Scooby-Doo Get a Clue!, Scooby-Doo! Mystery Incorporated, Be Cool, Scooby-Doo!, and – most recently – Scooby-Doo and Guess Who?
There have also been a large number of first run package series (such as The Richie Rich/Scooby-Doo Show), rerun package series (such as Scooby's Mystery Funhouse), episodes of other TV shows featuring a Scooby Doo crossover (such as Supernatural's Scoobynatural), telefilms and TV specials (such as Scooby-Doo and the Reluctant Werewolf), direct to video films (such as Scooby-Doo and KISS: Rock and Roll Mystery), and theatrical films (most recently 2020's Scoob). 
There have been a variety of Scooby Doo comics over the years. But perhaps the most surprising was a run from May 2016 to April 2019 entitled Scooby Apocalypse.
Unlike every previous Scooby Doo comic book, it was aimed at teen audiences. It also reimagined the characters fans know and love in a post-apocalyptic world.
The book received mostly positive reviews from critics. 
Scooby Doo: Fun Facts
Scooby Doo has crossed paths with a number of celebrities over the years. They include Dick Van Dyke, the Harlem Globetrotters, Mark Hamill, and Smash Mouth. There's also the recent series Scooby-Doo and Guess Who?, whose whole premise is introducing Scooby Doo to various celebrities. These have included Ricky Gervais, 'Weird Al' Yankovic, Sia, Kenan Thompson, Whoopi Goldberg, Halsey, Steve Buscemi, and Christian Slater, amongst many others. 
Those who are most familiar with the early 2000s live action Scooby Doo movies might be surprised to learn that Scooby's nephew, Scrappy Doo, didn't appear until 1979. 
The titular character was originally going to be a sheepdog. But producers deemed his design too similar to Hot Dog from the Archie comics. So they went the Great Dane route.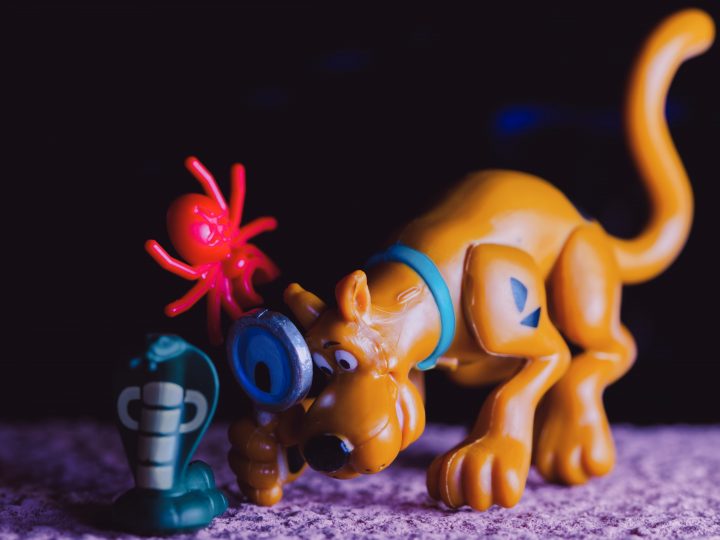 Other Cartoon Dog Breeds
Because cartoons are so often designed to differ from the world as we know it, it can often be hard to tell what breed certain iconic dogs are supposed to be.
Some might surprise you; did you know that, canonically, Snoopy is a beagle? He looks nothing like a beagle, and yet… beagle. 
One of the more recognisable dogs in cartoon history is Fry's expertly named Seymour Asses in Futurama. He featured most prominently in the seventh episode of the fourth season, Jurassic Bark– otherwise known as one of the most emotional episodes of the show (of which there were a few; the ending to Game of Tones, anyone?).
Seymour Asses is a border terrier, as is fairly clear from his appearance. 
Elsewhere in the world of cartoons there's Lucky (also known as Pizza Dog) from Marvel's Hawkeye comics. Pizza Dog is a chocolate Labrador, and recently (finally) featured in the Marvel Cinematic Universe, debuting in the Hawkeye series. 
Some of the other most prominent dogs in cartoons (or animes) include:
Conclusion: What Type of Dog is Scooby Doo?
Scooby Doo is a Great Dane, but his frame is quite different from the Great Danes we're familiar with. His characteristics are also very different from those of real Great Danes. The dogs of the breed are known to be noble, elegant, and brave.
Scooby Doo first appeared in Scooby-Doo, Where Are You! back in 1969. Most recently he has appeared in Scooby-Doo and Guess Who?, which has been airing since 2019.
FAQs
What kind of dog breed is Scooby-Doo?
Scooby Doo is a Great Dane breed of dog.
What type of Great Dane is Scooby-Doo?
In essence, Scooby-Doo is a fictional representation of a Great Dane, created for entertainment purposes. While he captures some aspects of the breed's characteristics, his portrayal takes creative liberties for comedic effect.