Dogs make wonderful companions.  They're always there for us and excited to greet us when we get home, cuddle up on the couch, or go out for a walk together.  However, caring for a dog is not always an easy task.  And, sometimes, the behavior of our canine friends can be puzzling.  For example, if you notice your dog yelping for no reason, you may be confused about what is going on when everything is seemingly OK. It may appear to you that there is no logical explanation for the yelping. However, your dog likely does have a reason—you just have to determine what that reason is.  Read on, and I'll share more about why your dog is yelping for what seems like no reason.
Inhaltsverzeichnis
Warum jault mein Hund ohne Grund?
Viele Menschen assoziieren a Hundekläffen, obwohl der Hund Schmerzen hat or having a medical condition. This could be the explanation if your dog yelps when touched on side.  Or for an old dog yelping in pain at night.  However, these are not the only reasons your dog may be yelping.  If you notice your dog yelping and know that they haven't recently done anything to have injured themselves, it may be something else.  However, if it continues, it may be worth a trip to the vet. Your vet can confirm that there is not an invisible injury or underlying condition that is causing your dog pain.
Some of the other possible answers for the question, "why does my dog keep yelping for no reason," include:
Auf der Suche nach Aufmerksamkeit
Nach etwas fragen
Angst
Furcht
Hearing or seeing something that you don't
Langeweile
Let's take a closer look at each of these reasons in the next few sections.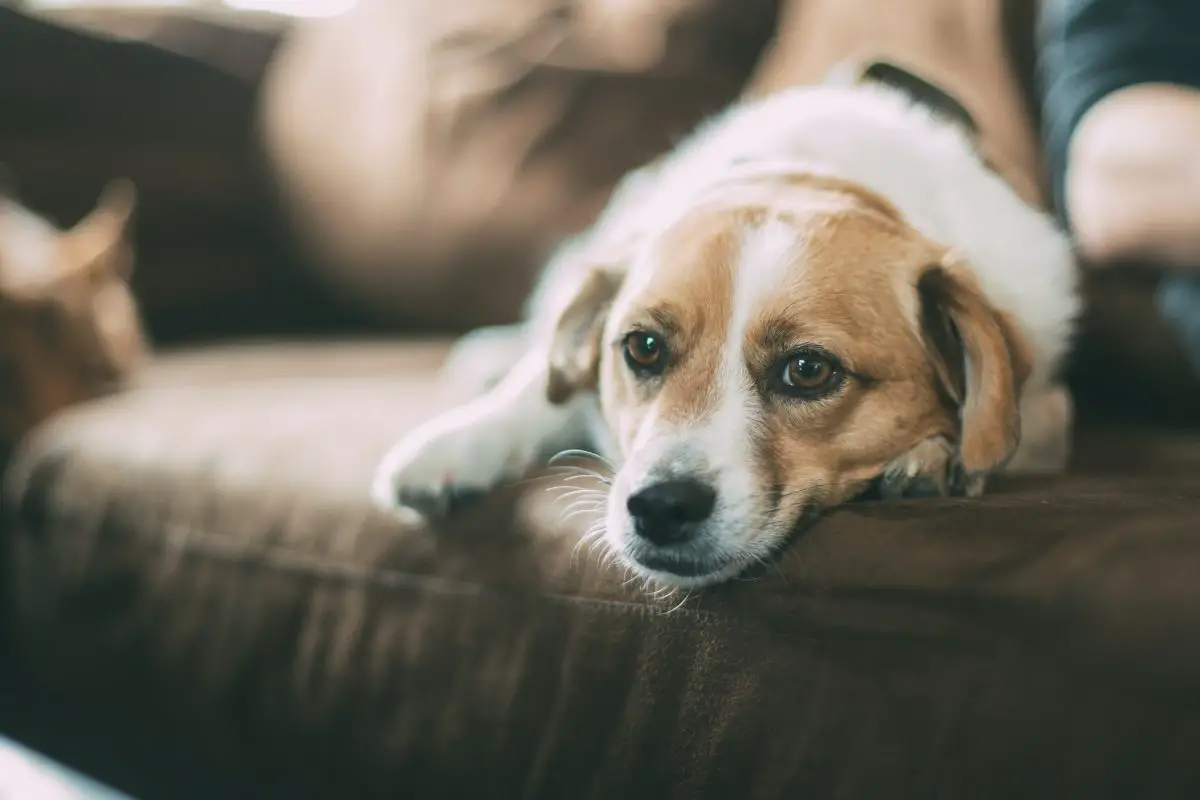 Auf der Suche nach Aufmerksamkeit
Why is my dog yelping out of nowhere?  In some cases, the yelping may be your dog's way of asking for attention. 
If you're in the middle of doing something and aren't really paying attention to your dog, they could be asking for you to come pet them or cuddle up on the couch with them.  
If your dog got immediate attention from you in the past when they yelped, either due to injury or some other reason, they may associate the yelping with the attention they received.  This can lead to the learned behavior of yelping, trying to recreate that attention they've previously received.
Nach etwas fragen
If you're asking, "why did my dog started yelping for no reason," they may be trying to ask you for something. 
Think about whether your dog may be hungry. Has it been a while since they've been out to use the bathroom? Your dog could also be asking to take a walk together or go out into the backyard to play so they can get some of their energy out.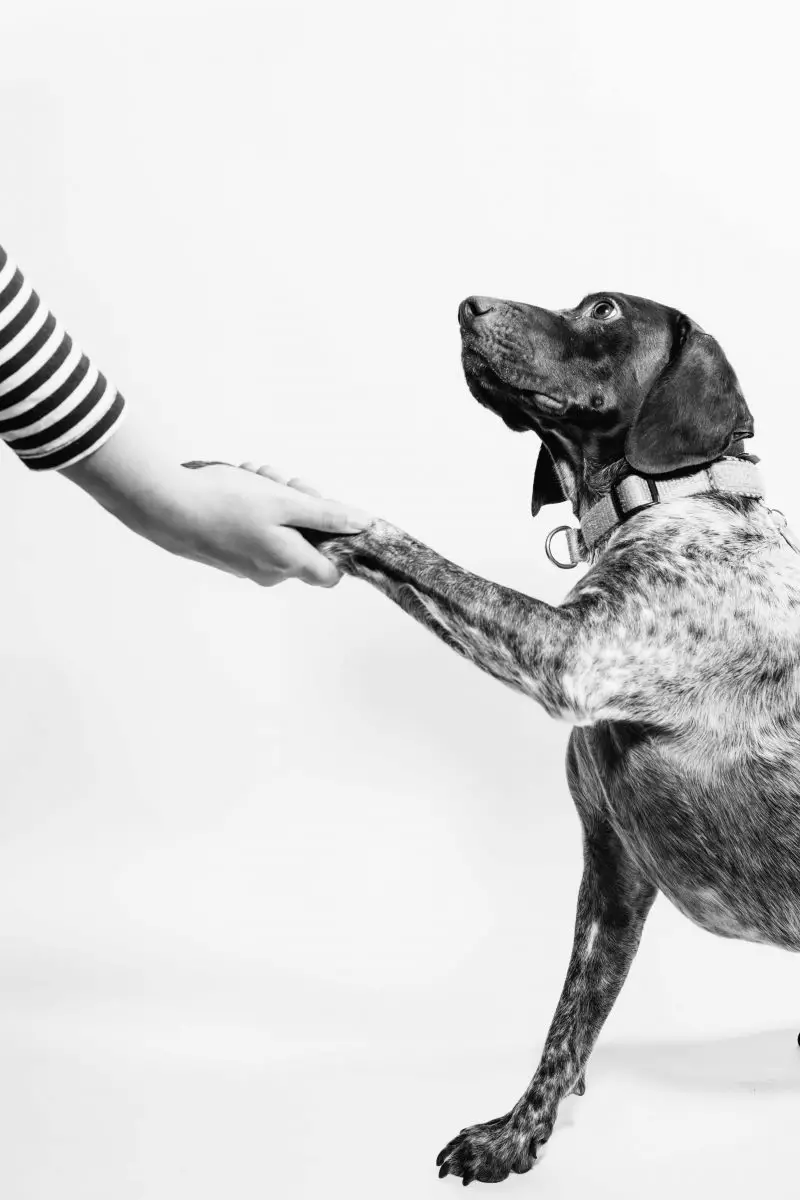 Angst
What happens if a dog is constantly yelping for no reason when you're getting ready to leave the house? 
Some dogs suffer from separation anxiety. They do not like being left alone in the house or away from their owner. 
Hunde mit Trennungsangst often seem most distressed when their owner is preparing to leave or when they are left home alone.  
Furcht
Hunde können auch aus Angst jaulen. 
Versteckt sich Ihr Hund auch beim Kläffen? Scheinen sie zu jaulen, wenn drinnen oder draußen laute Geräusche zu hören sind? Wenn ja, könnte die Angst schuld sein.
Hearing or Seeing Something that You Don't
Dogs have highly attuned senses.  It is completely possible that your dog is sensing something that you don't even realize.  They often can see, hear, or smell things that we don't even notice.  Maybe it's a squirrel in the walls, or a cat on the outside roof.
Just because you don't see a reason for their yelping, doesn't mean that something isn't there that they notice.
Langeweile
An old dog yelping for no reason could be caused by boredom. 
Even younger dogs may become bored or try to let you know that they need some playtime or attention.  Some dog breeds have high daily exercise needs each day (an hour or more) or require a lot of mental stimulation.  These breeds, in particular, may really struggle without enough activity and interaction.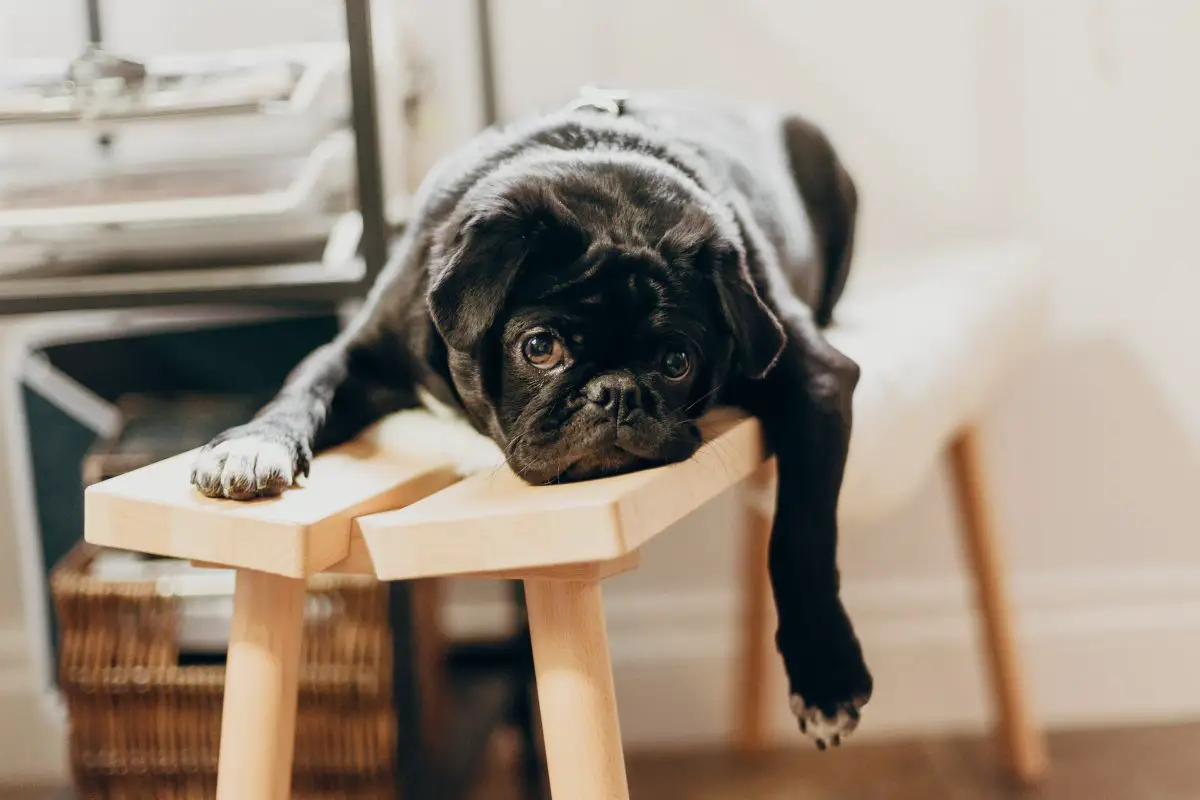 Bestimmung der Ursache für einen Hund Yelping
Es kann eine Herausforderung sein, genau zu bestimmen, was Ihren Hund zum Jaulen bringt. Natürlich wäre es einfacher, wenn Ihr Hund Ihnen einfach sagen könnte, was nicht stimmt. Aber so läuft das bei Hunden leider nicht.
If the yelping is a new behavior or only happened a few times, try to think about what was going on at the time it occurred.  Do you think something could have frightened or excited your dog?  Were they showing anxiety at the thought of you leaving or having just returned from being gone?  Had you been consumed with an important task and the yelping was your dog's way of trying to get some attention?
Eine andere Sache, an die Sie denken können, um festzustellen, warum Ihr Hund jault, ist die Tageszeit, zu der es auftritt. Haben Sie irgendwelche Muster bemerkt, zu denen Ihr Hund um die Uhrzeit(en) jault? Es könnte mit der Notwendigkeit verbunden sein, auf die Toilette zu gehen oder spazieren zu gehen oder gefüttert werden zu wollen.
Was Sie tun sollten, wenn Ihr Hund jault
Die angemessene Vorgehensweise, wenn ein Hund jault, sieht unterschiedlich aus, je nachdem, was Sie als Grund für das Schreien entscheiden. 
Nachfolgend finden Sie einige verschiedene Ansätze, die Sie in Betracht ziehen sollten.
Don't Encourage the Yelping Behavior
Manchmal kann Jaulen ein erlerntes Verhalten sein. Wenn Ihr Hund einmal aus einem berechtigten Grund gejault hat und dann viel Aufmerksamkeit von Ihnen bekommen hat, kann er das Verhalten dazu ermutigen, weiterzumachen. 
Wenn Sie zum Beispiel direkt zu Ihrem Hund gerannt sind und angefangen haben, ihn zu streicheln und zu fragen, ob es ihm gut geht, wird er das Kläffen vielleicht damit assoziieren, viele Haustiere und Liebe zu bekommen. 
If you want the yelping behavior to stop, don't give your dog the reward of extra attention.  This may help nip the yelping in the bud.
Erstellen Sie eine konsistente Routine für Ihren Welpen
Konsequente Routinen sind für viele Hunde wichtig. 
Wenn Ihr Tagesablauf völlig durcheinander ist und Essenszeiten, Spaziergänge oder Toilettenpausen nicht vorhersehbar sind, signalisiert Ihr Hund möglicherweise, dass er mehr Struktur braucht. 
If you are asking, "why dog fakes yelping for no reason," try to create a more consistent schedule for your dog to help them understand what is happening and when they should be expecting a meal or time outside.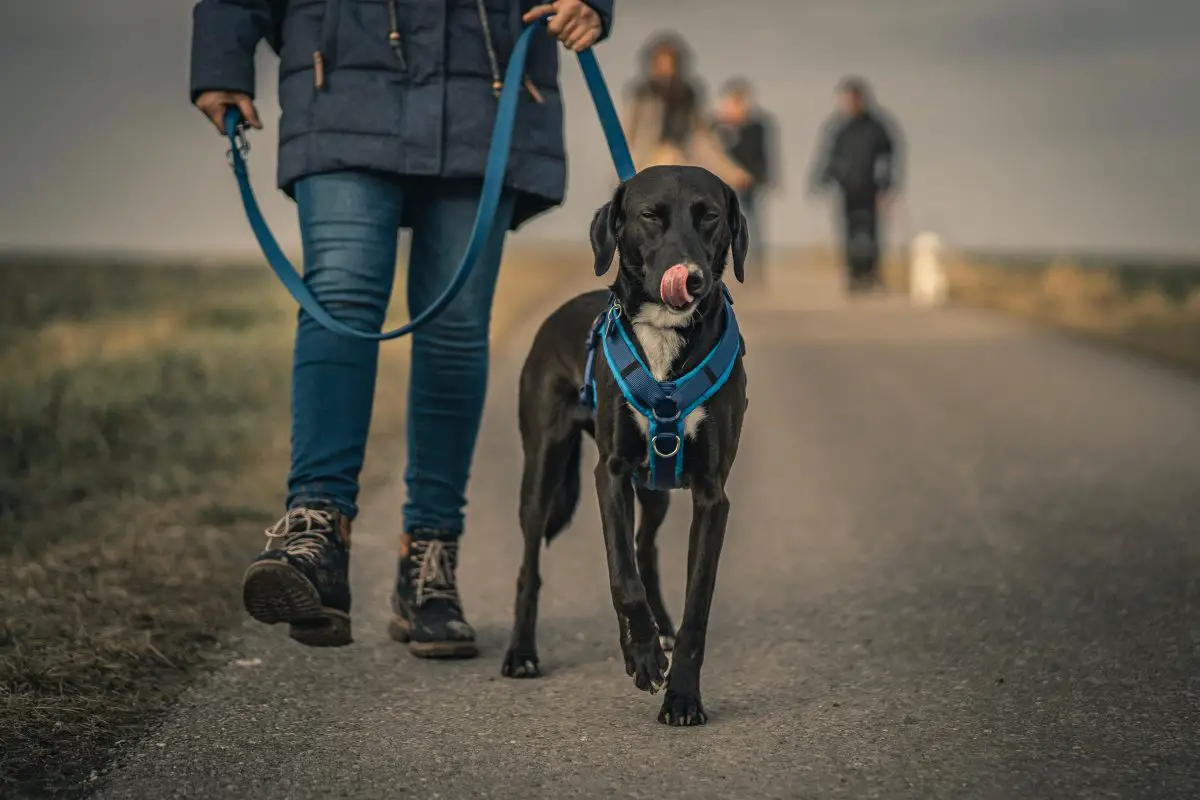 Arbeiten Sie, um Angst zu reduzieren
Do you think the yelping may be caused by anxiety?  If so, take some measures to help reduce the anxiety your dog may be feeling when they are left alone or confronted with loud and 'scary' noises.  Make sure you reassure your dog that you are coming home, give them some food, and take them out to use the bathroom before you leave the house.  You can also consider turning the radio or TV on at a low volume. This will allow your dog hear people talking, which can make them less anxious.  Your vet may also recommend an anti-anxiety vest or something similar to help calm your dog's nerves.
Bringen Sie Ihren Hund zum Tierarzt
If you can't determine the cause of the yelping or your dog yelps when barely touched and nothing seems to be helping to reduce it, it is probably a good idea to bring your dog to the vet.  It is possible that they have an injury or internal disorder that is causing them pain, in which case you'd want them to get treatment as soon as possible. 
Even if it ends up that it is not a medical condition, your dog's vet should be able to share some ideas to help minimize or eliminate the yelping.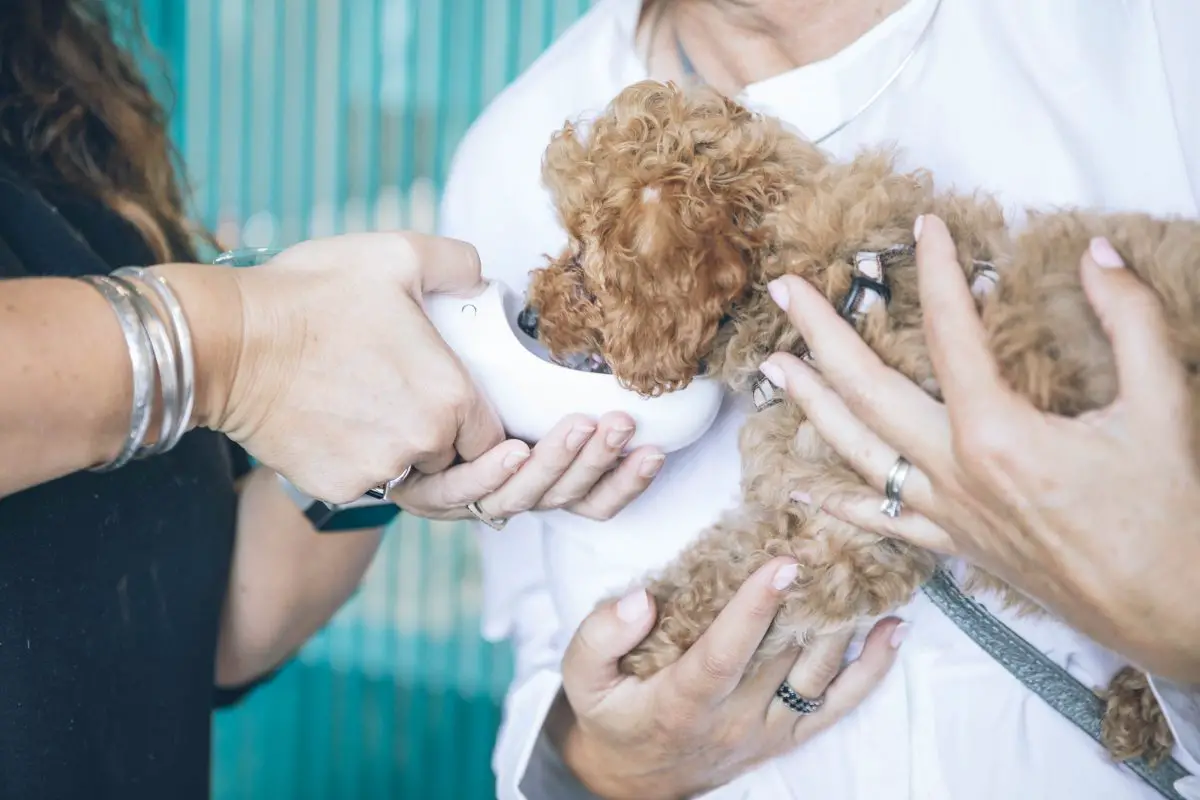 Dog Yelping: Final Words
Hearing your pup yelping can be concerning.  It can also be frustrating when it appears to be happening for no reason.  It is important to realize, however, that even though we don't see a logical explanation for the yelping, your dog almost always is doing it for some reason. 
Hoffentlich haben die Informationen, die ich oben geteilt habe, Ihnen geholfen zu verstehen, was Ihren Hund zum Jaulen bringen könnte, und Ihnen einige Ideen gegeben, was Sie tun können, um das Verhalten zu stoppen oder sich bei Bedarf behandeln zu lassen.
Hier sind Beiträge, die für Sie relevant sein könnten:
Häufig gestellte Fragen
Warum schreit mein Hund?
Why is my dog crying out in pain for no apparent reason?  There are a number of reasons that a dog may scream or yelp.  These can include pain, fear, anxiety, asking for attention, boredom, hearing or seeing something, or asking to go to the bathroom or be fed.
Was sind die Warnzeichen, dass Ihr Hund um Hilfe schreit?
A dog yelping isn't necessarily a sign that they are in immediate need of medical attention.  However, if your dog yelping in pain when touched.  Additionally, if you notice any signs of injury, trouble breathing, changes in their stool, or aggressive behavior, Lassen Sie sich vom Tierarzt behandeln.